Forest at Night Scented Soy Wax Candle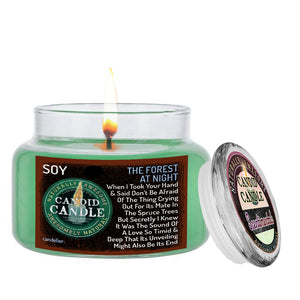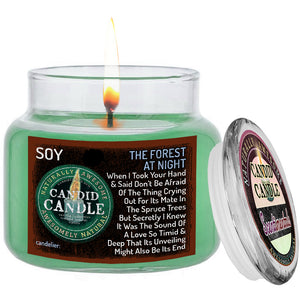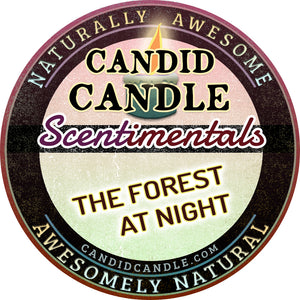 Invigorating scents of a spruce tree forest will fill your senses when you light our Forest At Night scented candle, a Candid Candle original and part of our Scentimentals line.
This lovely, woodsy candle features premium, eco-friendly, all-natural Soy Wax, the most popular wax choice for health-conscious, eco-friendly candle lovers.
Hand-poured in the USA by one of Candid Candle's expert candeliers, this unique scented candle comes in a reusable and recyclable glass candle jar with lid. Several styles and sizes are available. 
Our Forest At Night candle also features a premium Eco Wick, designed for a long, slow burn at just the right temperature to disperse the lovely scent into your home.
Natural Soy Wax

Hand-poured in the USA

Slow-burning Eco Wick

8-ounce volume

12-ounce 

glass jar

Eco-friendly
Let's Get Scentimental
As part of our Scentimentals line, this
Forest At Night

 

candle features a long-form title in stream of consciousness style, based on a memory recounted by one of our candeliers. Although the memory is personal to a specific person, the poetic description of it is meant to evoke scent-memories for anyone who reads it while smelling the candle. We hope this Scentimentals candle brings back some of your fondest memories, too, and we'd love it if you share your results with us!