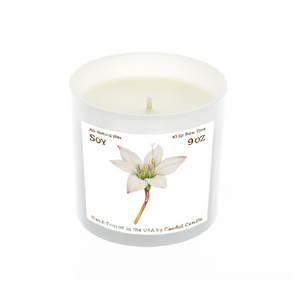 Fill your home with light and aroma with this 9-ounce Candid Candle original scented candle.
The Lily Scented Candlecandle features premium, eco-friendly, all-natural Soy Wax, the most popular wax choice for health-conscious, eco-friendly candle lovers. Hand-poured in the USA by one of Candid Candle's expert candeliers, this unique scented candle comes in a reusable and recyclable glass candle jar with lid.
The candle is made with a premium zinc-free cotton wick designed for a long, slow burn at just the right temperature to disperse the lovely fragrance into your home.
Features include:
Natural Soy Wax
Hand-poured in the USA
Slow-burningÊzinc-free wick
Infused with essential oils
Eco-friendly/Recyclable
Non-toxic/Paraben-free
9 ounces
65+ hour burn