Picking Fresh Oranges Scented Soy Wax Candle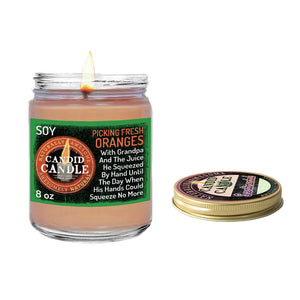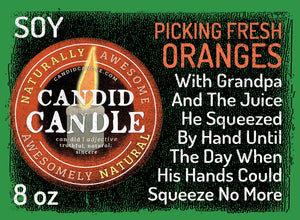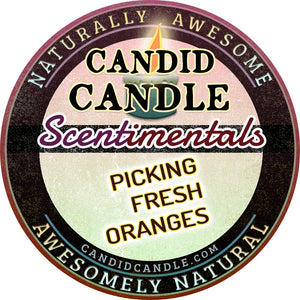 Fill your home with the scent of fresh Honeybell oranges, orange blossoms, and pulpy, fresh-squeezed orange juice with Picking Fresh Oranges, a Candid Candle original.
This delicious-smelling citrus candle features premium, eco-friendly, all-natural Soy Wax, the most popular wax choice for health-conscious, eco-friendly candle lovers. 
Hand-poured in the USA by one of Candid Candle's expert candeliers, this unique scented candle comes in a reusable and recyclable glass candle jar with metal lid. Various sizes and styles are available.
It also features a premium Eco Wick, designed for a long, slow burn at just the right temperature to disperse the lush Picking Fresh Oranges scent into your home.
Natural Soy Wax

Hand-poured in the USA

Slow-burning Eco Wick

8-ounce volume

12-ounce 

glass jar

Eco-friendly
Let's Get Scentimental
As part of our
 

Scentimentals

 

line, this candle features a long-form title in stream of consciousness style, based on a memory recounted by one of our candeliers. Although the memory is personal to a specific person, the poetic description of it is meant to evoke scent-memories for anyone who reads it while smelling the candle.
We hope this
 

Scentimentals

 

candle brings back some of your fondest memories, too, and we'd love it if you share your results with us!




 
Picking Fresh Oranges Fragrance
When the candle is lit, the scent builds into a citrus aroma that is equally sweet, delicate, and fresh. This special orange fragrance is also infused with natural essential oils, including bergamot and eucalyptus, to give it balance and stress-reducing properties. You'll also sense subtle notes of jasmine, sandalwood, petitgrain, and neroli.
Pairs well with sunny mornings, oldies music (or classic country-western), and asking a parent or grandparent to tell you stories of their youth.
CANDID MEMORY
"This candle is based on one of my fondest childhood memories, when I was five years old and would spend the weekend at my grandfather's house in Palm City, Florida.
"I remember waking up at dawn and sitting on the porch with grandpa to watch the sun rise over the St. Lucie River, and then he'd bring me into his yard where he had planted a few honeybell orange trees. He'd put me on his shoulders and let me reach up and pluck the ripest oranges from the tree.
"Moments later, he'd be slicing the oranges in his kitchen and pressing each half onto a glass juicer, and then we'd bring grandma a glass of juice in bed before enjoying our own.
"Burning this candle brings me back to those beautiful memories of grandpa, who passed away in 2009. As it happened, I was the only one at his bedside when he died at sunrise. In the moment that he took his final breath, the hospital room filled with the scent of orange blossoms."
- Sean, Candid Candle
Picking Fresh
Oranges
With Grandpa
And The Juice
He Squeezed
By Hand Until
The Day When
His Hands Could
Squeeze No More