St. Ambrose Forest Honey Scented Candle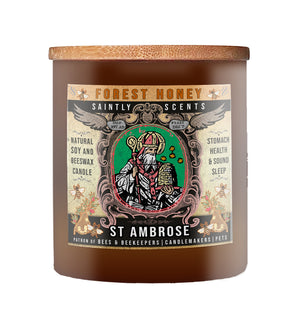 A Candid Candle exclusive from our Saintly Scents line of luxury scented soy wax candles, this St. Ambrose candle boasts a Forest Honey fragrance in honor of the patron saint of bees and beekeepers, candlemakers, pets, and more. With hints of the lovely, earthy fragrances found in untouched forests, our St. Ambrose scented candle features a distinct honey aroma at its core. The scent is based on a miracle attributed to St. Ambrose involving a swarm of bees that did not sting him.
Made in small batches with all-natural soy wax and hand-poured in the USA, candles by Saintly Scents are non-toxic, paraben-free, phthalate-free, and designed to be safe for your home as well as the environment.
FEATURES
Medium Glass Jar (9 ounces of wax)

65+ hour average burn time

Bamboo Lid with Fragrance Seal

Made in the USA

All-natural soy wax and beeswax blend

Hand-poured in small batches

Eco-friendly/Cotton wick

Beautiful aroma

Tumbler Jar color: Amber