St. Christopher Wild Herbs and Riverbank Scented Candle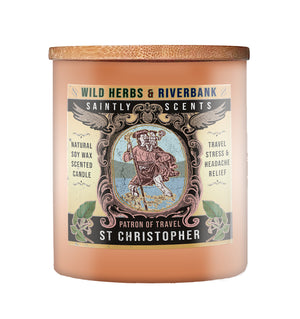 A Candid Candle exclusive from our Saintly Scents line of luxury scented soy wax candles, this St. Christopher candle boasts a Wild Herbs and Riverbank fragrance in honor of the patron saint of travel and travelers of every type. According to tradition, St. Christopher carried the child Jesus across a river, and the child later told Christopher that he had carried the entire world on his shoulders. As the patron saint of travelers, St. Christopher's scented candle features an earthy, sweet fragrance reminiscent of wild herbs and the banks of a freshwater river.
Made in small batches with all-natural soy wax and hand-poured in the USA, candles by Saintly Scents are non-toxic, paraben-free, phthalate-free, and designed to be safe for your home as well as the environment.
FEATURES
Medium Glass Jar (9 ounces of wax)

65+ hour average burn time

Bamboo Lid with Fragrance Seal

Made in the USA

All-natural soy wax and beeswax blend

Hand-poured in small batches

Eco-friendly/Cotton wick

Beautiful aroma

Tumbler Jar color: Copper