St. Damien of Molokai Honeysuckle and Hibiscus Scented Candle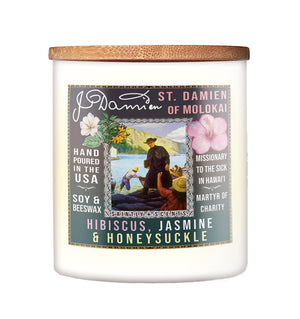 A Candid Candle exclusive from our Saintly Scents line of luxury scented soy wax candles, this St. Damien of Molokai candle boasts a Honeysuckle and Hibiscus fragrance in honor of the patron saint of those suffering with sickness and Hawaii. As a missionary priest, St. Damien took great pity on the sufferers of leprosy he encountered when he came from Belgium all the way to Hawaii. This scented candle dedicated to St. Damien features two flowers that grow in the Hawaiian islands: honeysuckle and hibiscus. Together they emit a lovely floral fragrance that will remind you of the beauty of these tropical islands.
Made in small batches with all-natural soy wax and hand-poured in the USA, candles by Saintly Scents are non-toxic, paraben-free, phthalate-free, and designed to be safe for your home as well as the environment.
FEATURES
Medium Glass Jar (9 ounces of wax)

65+ hour average burn time

Bamboo Lid with Fragrance Seal

Made in the USA

All-natural soy wax and beeswax blend

Hand-poured in small batches

Eco-friendly/Cotton wick

Beautiful aroma

Tumbler Jar color: White