St. Juan Diego Cactus Flower, Aloe and Agave Scented Candle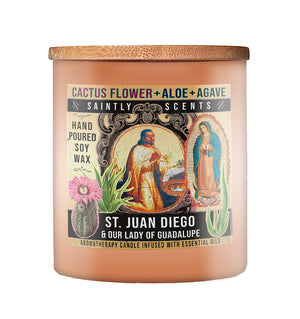 A Candid Candle exclusive from our Saintly Scents line of luxury scented soy wax candles, this St. Juan Diego candle boasts a Cactus Flower, Aloe and Agave fragrance in honor of the patron saint of the indigenous peoples of the Americas, Mexico, Mexican people, and more. Our Lady of Guadalupe, likewise, is the patroness of the Americas. Juan Diego's visions of the Virgin Mary shaped the history of the New World and remain an intrinsic part of Mexican culture to this day. Boasting one of our most popular scents, this candle will fill your home with the sweet yet earthy aroma of cactus flower, blended with the prized fragrances of aloe and agave.
Made in small batches with all-natural soy wax and hand-poured in the USA, candles by Saintly Scents are non-toxic, paraben-free, phthalate-free, and designed to be safe for your home as well as the environment.
FEATURES
Medium Glass Jar (9 ounces of wax)

65+ hour average burn time

Bamboo Lid with Fragrance Seal

Made in the USA

All-natural soy wax and beeswax blend

Hand-poured in small batches

Eco-friendly/Cotton wick

Beautiful aroma

Tumbler Jar color: Copper