Saint Monica and Saint Augustine Cinnamon and Clove Scented Candle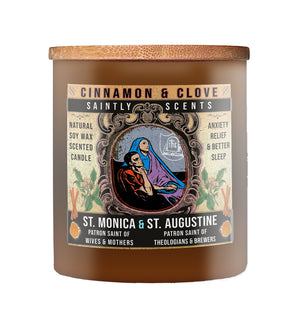 A Candid Candle exclusive from our Saintly Scents line of luxury scented soy wax candles, this Saint Monica and Saint Augustine candle boasts a Cinnamon and Clove fragrance in honor of the patron saint of married women, difficult marriages, disappointing children, victims of unfaithfulness, victims of verbal abuse, and conversion of relatives (St. Monica), and the patron saint of brewers, printers, theologians, and sore eyes (St. Augustine). St. Monica was the devoted mother of Augustine, and she remains an example of a woman who never gave up hope and faith. Monica's wayward son finally found God after years of his mother's fervent prayers, and Augustine eventually becoming one of the greatest saints in history. Monica and Augustine lived in Northern Africa, in the region that is now Algeria, so this invigorating scent blends two of the most popular North African spices: cinnamon and clove.
Made in small batches with all-natural soy wax and hand-poured in the USA, candles by Saintly Scents are non-toxic, paraben-free, phthalate-free, and designed to be safe for your home as well as the environment.
FEATURES
Medium Glass Jar (9 ounces of wax)

65+ hour average burn time

Bamboo Lid with Fragrance Seal

Made in the USA

All-natural soy wax and beeswax blend

Hand-poured in small batches

Eco-friendly/Cotton wick

Beautiful aroma

Tumbler Jar color: Amber