Yule Love This Scent - Soy Scented Christmas Candle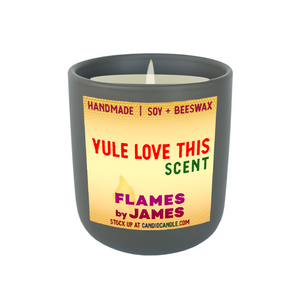 Yule Love This Scent from the Flames By James brand is a lovely Christmas spice scented soy and beeswax candle in a ceramic jar.
It comes with a cork top. With 11 ounces of Soy Wax and Beeswax, this scented candle will burn for approximately 80 hours!
Limited edition scented candles hand-poured by 12-year-old James (under the supervision of his dad, of course!) are sure to be a hit.
The limited supply is due to the local popularity of James' candles (he sells them door-to-door and doesn't take no for an answer), as well as his busy school, fishing, and soccer schedule.
Help James expand his business and own one of his first of probably many hand-poured candle creations! He's quickly becoming known for his amazingly-fragrant candles.